REVIEW:

Emotional, creative and mature electronic pop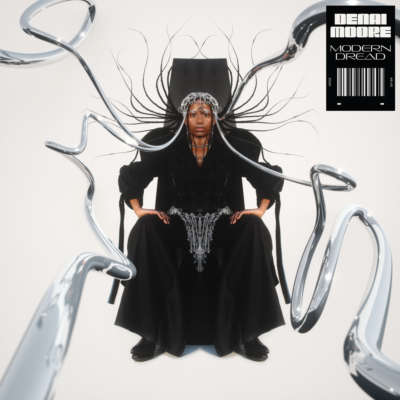 Denai Moore is not an artist we are overly familiar with at Influenced so her third studio album is our first venture into her music. Researching the artist before listening, it seemed a few things could be guaranteed: groovy and atmospheric synths, interesting and thought-provoking melodies, and exquisite vocals. With my interest piqued I ventured in to "Modern Dread".
From the very first bars Denai's vocal skills are evident. Her ability to soar on top of a track as well as cut right through it is impressive. She displays admirable range and clarity without lacking in tone or emotion.
I would describe the album as creative and mature electronic pop, very much like The Pet Shop Boys or Depeche Mode in the 80's, or Chvchres and Little Dragon in contemporary music. It's intelligently constructed with synths and electronic drums more akin to the natural progression of the great David Bowie rather than, say, cheesy 90's semi house / techno. The similarities mentioned above apply lyrically as well as sonically, with Denai providing explorations of love, loss, hopelessness, identity, respect, understanding, insecurity, defiance and gratitude.
With lead single 'To The Brink', Moore transitions between soft aspiring vocals and the air of anger throughout. The marching band snares, intro strings and heavy bass together create the essence of the song. Just when it feels as though she's reached the brink we get a break in the vocals and a calming influence from synths. This is a track which in modern times is so relatable, with the lyrics "Wanting nothing more than to throw away my phone" and "Trying to find the space to finally break free yet we can't pull the pug" expressing the inner turmoil we feel in relationships with loved ones, work and life in general. It is surprising that this great lead single is placed so late in the album, at track number 7.
My pick of the album is 'Motherless Child'. There's a real feel of Kaytranda in production at points when the vocal break. This is a beat lovers track. There's real soul and consistency in the vocal and I love the kicks. This is going on my playlist for the rest of the year.
Moving on to the lesser moments. Whilst the album moves in various directions to maintain interest and her lyrics have loads of great content, I still feel that 13 tracks and 47 minutes feels a little too long. As much as I love the emotional openness of her music, I also feel that this would have been great as a 9 track album or even a 6 track EP, allowing the listener to enjoy the project without becoming overwhelmed.
With that in mind, I give the album 7/10 however, if you are a listener with a longer attention span than myself, this is a
much
better album than this rating suggests. I look forward to hearing what you think of the project, as well as going into Denai's back catalogue after such a welcome introduction.
Be sure to join us in sharing, celebrating and exploring the music we love on social media:
Mark Influenced Podcast on Instagram
Mark Influenced Podcast on Facebook
Influenced Panel Playlists on Spotify
Influenced Panel on Youtube Coming Soon